"If a Rage show ever breaks out, I'd be happy to play guitar," the musician said.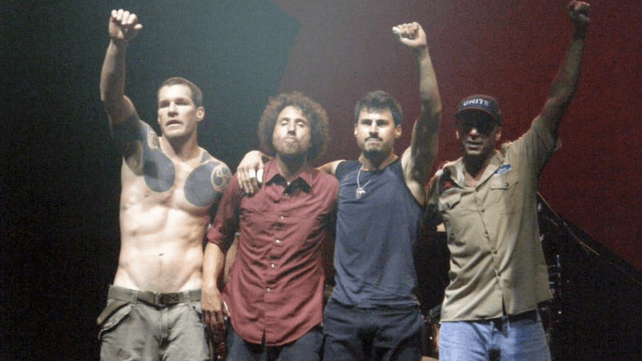 During a conversation with Alternative Press, Tom Morello was asked if he thinks Rage Against the Machine "would be able to happen again today."
The guitarist replied (transcribed by Ultimate Guitar):
"I think there's never been a time more right for Rage Against the Machine, and to have music…
"I've tried throughout my entire career to make music that is uncompromising both musically and lyrically, that's exactly what Rage Against the Machine did. And if a Rage show ever breaks out, I'd be happy to play guitar, yeah.
Do you foresee that potentially happening?
"There's no movement on that front, sorry to say. While fans lament the fact that Rage Against the Machine doesn't exist, I'd say there's a lot of music out there that speaks to these times, including my 'Atlas Underground' record, but not exclusively.
"If like you are missing a Rage Against the Machine element in the world, then form a band. What's on your mind? It's your time – do it. Don't sit around waiting, you're wasting life if you're waiting for some bands to emerge from the shadows to save you, it's your time to pick up a guitar or a turntable or whatever or Ableton or whatever it is, and have your say."
Do you feel just looking at society, from a music standpoint because things are very single oriented these days – when you started Rage, the fact that you were able to find Zach is wild, there was no internet – that's wild… what does that tell you about music these days?
"Well, before you would risk by spending money on an album or a CD and then because you heard one song you hope the rest of it is okay. Now, it's like water is more expensive than music.
"We used to do this with demos back then, like, you'd be at a show, you'd get a bunch of demos on your drive to the next city, you get everything like the 45 seconds test. Like, 'Kick my ass in 45 seconds' or it goes out of the window. [Laughs]
"That's basically what music is – you go to Spotify or anything, you listen to 45 seconds, if you like it, you like it. Rather than having this sort of chance to just find out the greatness of something…
"I didn't have a budget for records. Like, if I bought a record, I was going to listen to that record, I was going to learn whether I like that or not, but now: 'They didn't capture my attention the first 17 seconds,' so you skip on it and that data goes to some metadata place that tells you it's not a hit. It's kind of crazy."
Source: Tom Morello: There's Never Been a Time More Right for Rage Against the Machine Than Now | Music News @ Ultimate-Guitar.Com